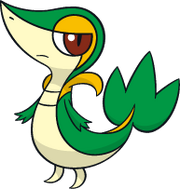 He is SC Oshawott's best friend, he has a girlfriend named Bella (currently unseen) and he is very cool. In Season 3, he was temporarily a Servine along with Oshawott and Tepig.
Name: Snivy
Age: 16
Gender: Male
Type: Grass
Friends: SC's Oshawott (best friend), SC's Pikachu, SC's Tepig
Main Shows
Edit
Mario & Pikachu
Pokemon Smash Rumble
Pokemon RPG Adventures (canceled)
SuperChespin Movie Series (canceled)
Ad blocker interference detected!
Wikia is a free-to-use site that makes money from advertising. We have a modified experience for viewers using ad blockers

Wikia is not accessible if you've made further modifications. Remove the custom ad blocker rule(s) and the page will load as expected.