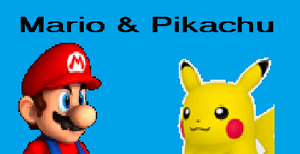 Created by SC Chespin (SuperChespin)
The episodes is up to 25 in one season. This series was originally going to be called Pikachu & Friends.
Main Characters (Mario)
Edit
Mario 
Luigi 
Yoshi 
Toad 
Peach (MP005)
Daisy (MP005)
Wario
Donkey Kong (MP008)
Main Characters (Pokemon)
Edit
MP001: Crazy Oshawott
MP002: Fatty Wario 
MP003: Yo Yo Yoshi 
MP004: Snivy got a Girlfriend 
MP005: Drunk Daisy 
MP006: Why Mario Why? (Coming Soon)
MP007: Peach vs Toad (Coming Soon)
MP008: DK...Donkey Kong (Coming Soon)
MP009: Snivy Random Party (Coming Soon)
MP010: Bored Bored (Coming Soon)
MP011: Find Axew (Coming Soon)
MP012: Mr.Bomb Workshop (Coming Soon)
MP013: Toad work at KFC (Coming Soon)
Ad blocker interference detected!
Wikia is a free-to-use site that makes money from advertising. We have a modified experience for viewers using ad blockers

Wikia is not accessible if you've made further modifications. Remove the custom ad blocker rule(s) and the page will load as expected.